Note: This web page content was ripped off directly from the Yamaha Motor Corporation web site.
WITH 145 HORSEPOWER, IT BLURS MORE THAN JUST THE "SPORT-TOURER" BOUNDARIES.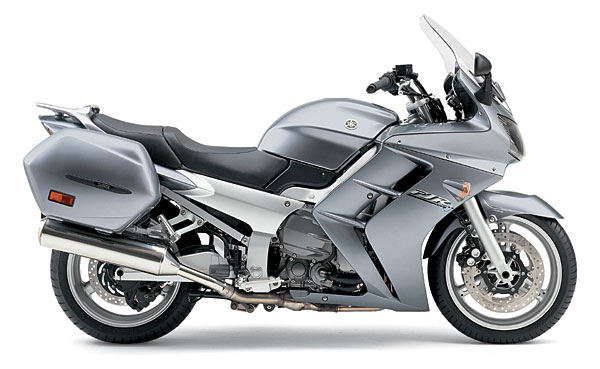 Sport-tourers, for awhile, were comfortable and convenient for the long haul but missing that critical ingredient - pure, outright performance.
In response, we created the FJR1300. Cycle World magazine immediately gave it another title upon its U.S. debut last year: "Best Sport-Touring Bike." The FJR1300 they said, "Combines cruise-ship comfort with a motor that would probably propel an ocean liner at a good clip, all wrapped in a classy-looking silver package."
The FJR1300's YZF-inspired 1,298cc four cylinder provides enough seamless fuel-injected urge to blow the portholes clean off any normal "sport-touring" bike you can name - 145 horses at 8,000 rpm. And since half of sport-touring is touring, the engine is also tuned to produce abundant low-end and midrange. Producing 99 foot-pounds of torque at 7,000 rpm means the FJR1300 responds instantly. And it's smooth as silk all the while, thanks to twin internal counter balancers.
It had to handle, too. The engine bolts solidly into a rigid, massive, yet lightweight, aluminum frame. Comfort and confidence are assured by a fully adjustable 48mm fork, a linkage-equipped rear shock, and a pair of R1-style front brake calipers squeezing even bigger, 320mm discs for 2004. This year, you can choose the ABS model for even greater braking confidence.
The latest FJR1300 gets a taller adjustable windshield and a small-item storage compartment in its fairing, as well. Even with saddlebags**, shaft drive, power windshield, 6.6-gallon fuel capacity, a thick dual seat and that fullback of an engine, the FJR1300 weighs just 537 pounds, dry.***
All of the old words still apply ... comfortable, convenient and practical. The FJR1300 adds a few new descriptors to the sport-touring class: Mind-bending performance. Sportbike handling. Pure excitement.
Manufacturer's Sugg. Retail Price...$11,599* ($12,599* for ABS model).
Cycle World, July 2002
** Accessory saddlebags as standard equipment
*** Without ABS